When I moved into this place, I decided to buy an air sofa, because I didn't want to spend too much on mattresses, and with my mom coming over often, I'd need something for her to sit on as well, as she can't sit on the floor. I ended up buying several inflatable products (for myself and others who saw mine). Here are my experiences with them.
"5-in-1″Air sofas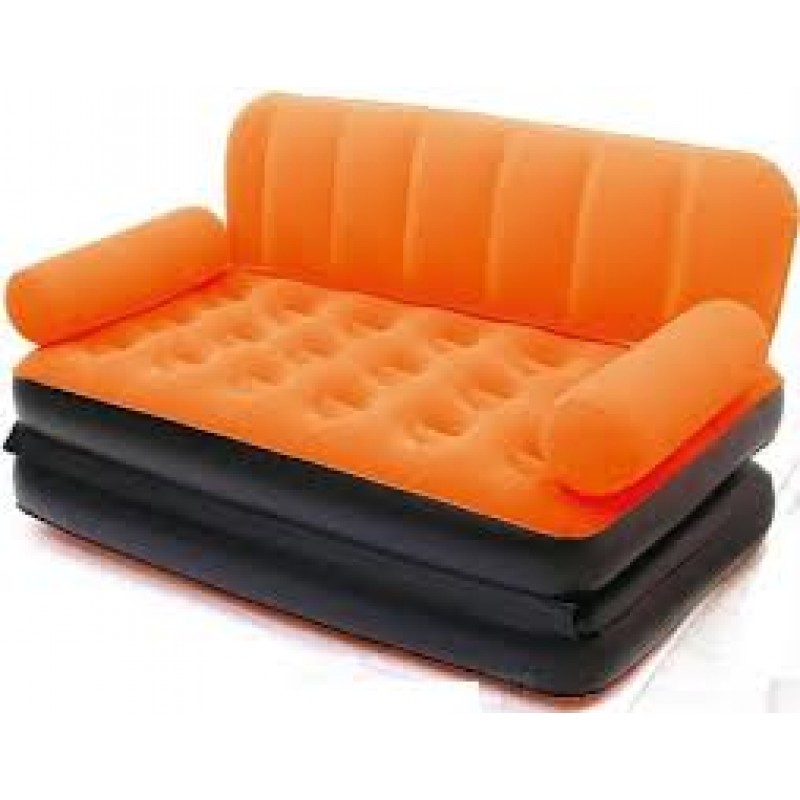 The "5-in-1" type products where the sofa can be converted into a lounger and bed by folding out its bottom mattress layer. My experience with two of these is that they are a waste of money. The "Bestway" ones are bright with attractive pictures and almost completely useless. The sofas are wobbly to sit on, leading to a rather insecure feeling while sitting in particular and you will not feel comfortable when your guests act wary of it even if you get used to it. There is a rather heavy tilt if you sit on one side instead of the middle. I have tried this with less air filled and more air filled. The lesser the air, the worse it gets (naturally).
If you really fill it as full as you can (ignoring the warning to not overfill), it gets more stable, but it is still a precarious experience for sitting. For sleeping, the two mattresses have a gap between them that is most uncomfortable to sleep on, and the width of the sofa isn't enough to sleep horizontally using the two pieces like separate mattresses. For sleeping, I found that less filled air was more comfortable, almost cocoonish, but turning becomes tougher.
In terms of quality, mine developed a puncture with relatively very mild use and no sharp objects around within 20 days of use. A puncture kit is not provided. The rubber flap connecting the two pieces of the "bed" started tearing within that period making the pieces move even further away from each other when used as a bed.
Don't buy. You will regret.
Intex Air Mattress
Excellent products. Superb convenience for inflating as well as deflating with the design of its valve. Robust, very stable using experience. I have used only the single camping mattress, but there doesn't seem to be any difference in quality among the various products and the difference is mainly in various sizes (single, twin, queen size, king size, etc).
Intex Air Sofa
If you want an air sofa, buy this one. Rugged to use, good looking, extremely convenient to inflate, deflate, pull out into bed or put back up as sofa. Feel while using is near identical to any normal sofa, and in fact more comfortable than many conventional sofas. It is wide enough to take a comfortable nap on without opening to bed (at least if you aren't very tall).
Cons: The one I have opens out to a king size bed. It may be difficult to open and use as a bed if your room is small. I don't know if there is a smaller size. Check dimensions and be sure you have that kind of space. It is also slightly more expensive than the other one, which isn't a surprise. It is offered in one (dark grey-blue) color. So if you want a sofa to match your red curtains, this may be a problem, though the color is quite attractive.
Overall, I found Intex products to be very well designed and excellent to use when inflated. Very little wobbling and such.
Air Pillows
They are convenient to inflate and use, but rather light and they have a tendency to "float" away from under your head while you are turning on your side. The ones I have have the velvet flocking only on one side of the pillow. No idea if there are pillows with flocking on both sides which may provide some friction and prevent the pillow from wandering away.
All in all, very comfortable if you don't mind adjusting your pillow or at least holding on to it when you move on the bed or you're going to have an unpleasant time.